In 2020, media agencies just like numerous other businesses, faced distinctive and unprecedented challenges. Diminished revenues, personnel cuts and the realities of remote work all took their toll. At the same time, these challenging new realities also created some intriguing opportunities for ingenious market participants. Luckily, advertisers were the ones to benefit from such developments the most.
What was the media agency pitch landscape like in 2020 and can we draw some valid conclusions for developments to anticipate in 2021? Here's what industry overviews reveal about the state of the market over the course of the past year.
Global New Business Highlights
According to the
COMvergence
Global New Business Barometer 2020, the total media pitch activity over the course of the year reached 22.2 billion dollars worldwide, which is a 15% fall versus 2019. However, when looking at the 'Pitch Rate' (the number of pitches divided by the number of advertisers), it remained at 18% on average in 2020 despite of the pandemic.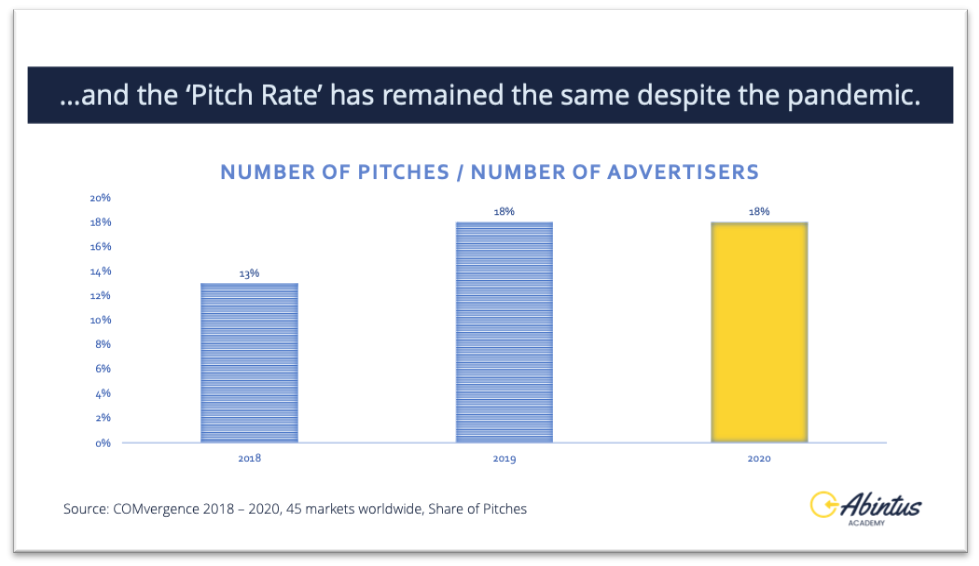 When comparing the pitch rate by market, Russia had the highest rate with 35% of advertisers pitching their media planning and buying business in 2020, compared with only 8% in Switzerland.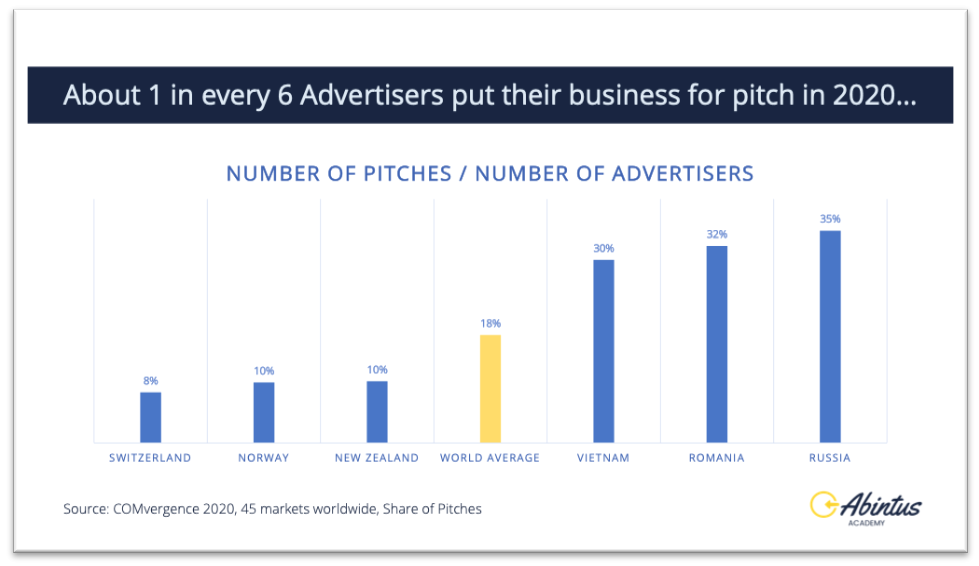 Local pitches dominated the market, even in terms of attracting major global brands. As far as pitches in the world go, 71 per cent are classified as local pitches and 29 per cent – global/regional.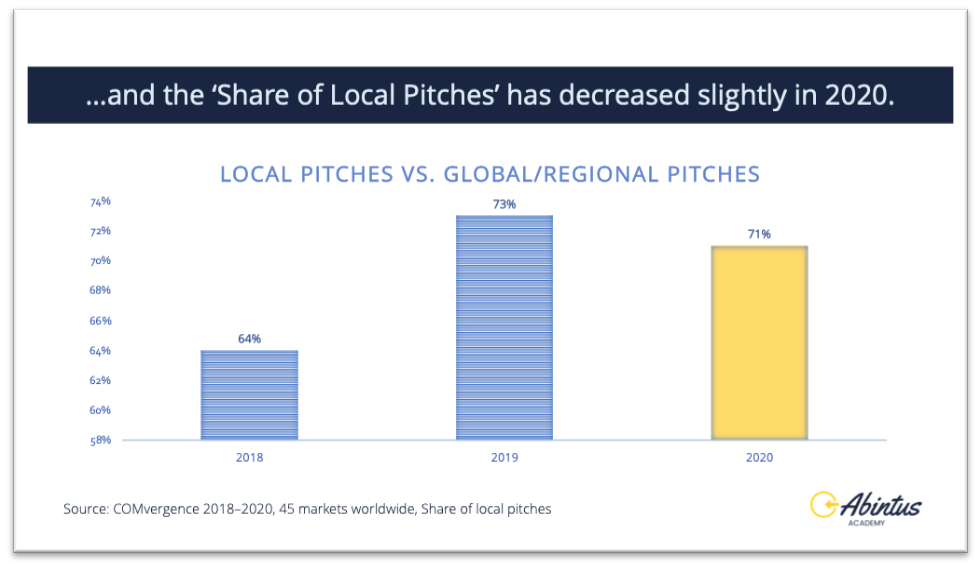 However, in some markets, the share of global/regional pitches were higher than local pitches, such as Chile, Switzerland and Portugal.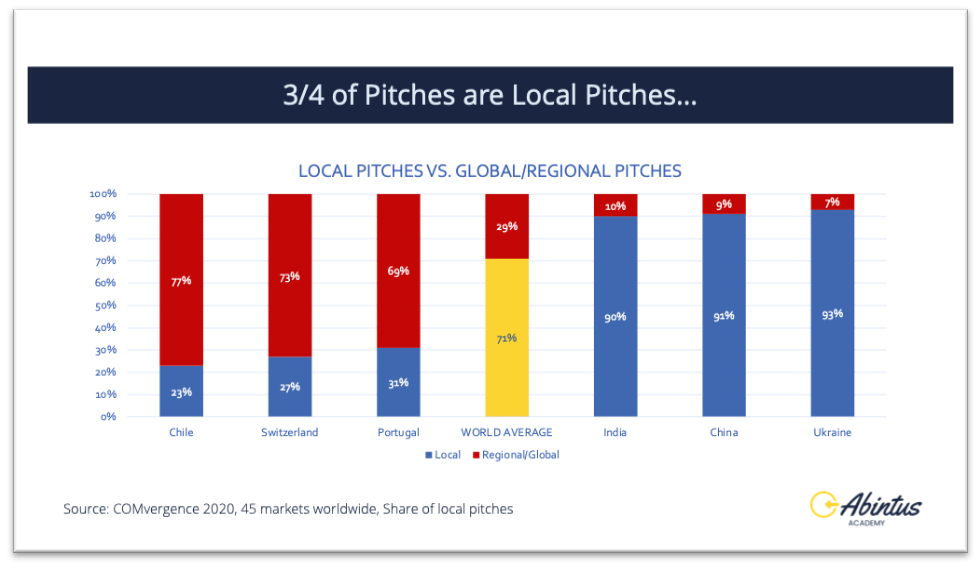 Local pitches represent the overwhelming majority in most countries, ranging from 93% per cent (in Ukraine) to 23 per cent (in Chile) of the total.
The retention rate (share of pitches won by the incumbent agencies) has increased in 2020, from 25% in 2019 to 31% in 2020.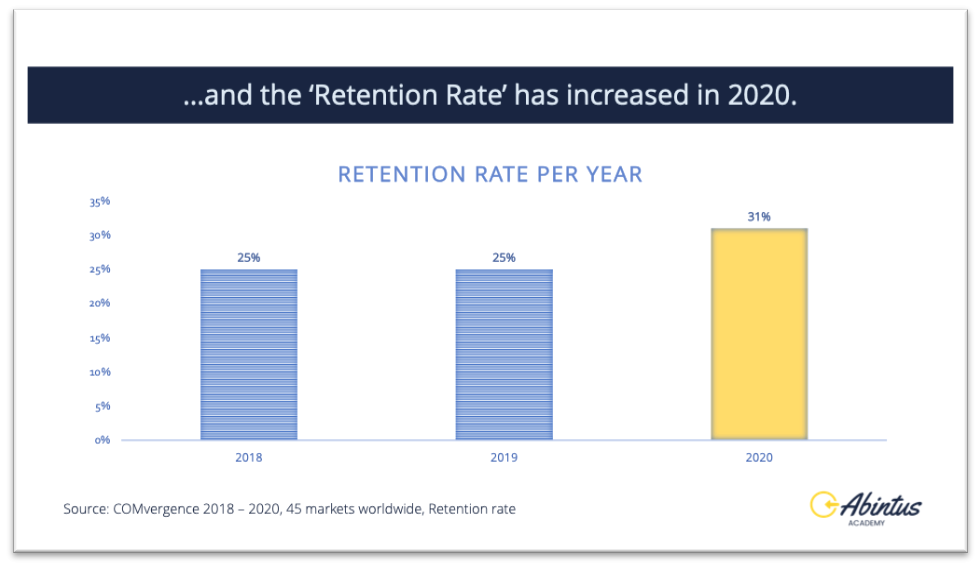 However, the retention rate varied from a market to another, from only 1% in New Zealand to up to 58% in the Czech Republic.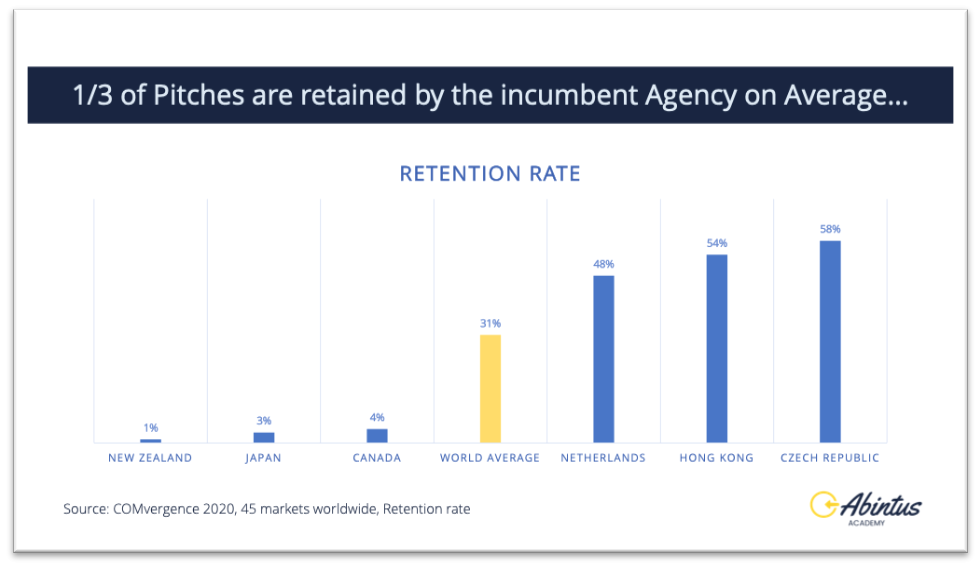 A few other new business highlights worth mentioning include the following:
Numerous international advertisers went for local pitching – Abbott, Clarins, Heineken, Johnson & Johnson, McDonalds, L'Oreal, Nestle, PepsiCo, Pernod Ricard, Red Bull, etc.

Pitching activity was highest in the following industries: retail (3.2 billion US dollars), food and beverages (3.14 billion dollars), FMCG – care (2.69 billion), pharmaceuticals (2.5 billion) and financial and insurance services (1.48 billion)

Of the total pitched billings, 10 per cent went to independent or local media agencies.




The State of Global Media Agency Pitches
As you can see, local pitches have clearly dominated the media landscape in 2020. According to media reports, challenges linked to the Covid-19 pandemic and its management have forced numerous brands to reassess their agency choices and interactions. New operating models have emerged, laying the foundations of pitching realities for the coming years (more immediate, more flexible and tailored to address the specific needs of the advertiser).
But how have global and multi-country media pitches fared in 2020? The previous section paints a less than optimistic picture for those.
A couple of major global pitches concluded successfully, in spite of industry challenges.
The biggest ones include the following:
Sanofi's global pitch worth 1.06 billion US dollars in media spend and international scope

LIDL/Kaufland's EU pitch worth 800 million dollars in media spend

Kraft Heinz's global scope pitch worth 650 million dollars

Walgreens' global scope pitch worth 450 million dollars

Diageo's global pitch worth 345 million dollars
These are followed by pitches that are Europe-centric (Agrolimen, De'Longhi, E. ON, Honda, MG Motors, Whirlpool, etc.). Two pitches targeted Latin America (DirecTV, Mercado) and one for the Southeast Asian market (Coca-Cola).
Biggest Conclusions and 2021 Forecasts
In a time of uncertainty, brands have decided to maintain loyalty and stick to what they know well. As a result, a third of all pitches were retained by the incumbent agencies, an increase against the previous years.
In 2020, we all started living in a situation that can only be described as the "new normal." It showed both brands and agencies that you don't need to set up a pitch in front of people. Virtual technologies and digital communication make that possible across boundaries and limitations.
As a result, we saw 47% more pitches in H2 2020 versus H1 2021. And we are now experiencing a surge of pitches in 2021.
When many advertisers are going to be on the 'pitching wagon' this year in order to improve their terms and conditions, it is important not to stand still on the platform and watch the others gain better benefits.
So if your media agency contract is 3 years old, or even older, you might want to consider pitching your media planning and buying requirements.
Getting Ready for Successful Pitching
New developments will give advertisers access to better, faster and much more customised pitches aimed at addressing their distinctive needs.
And while such prospects are being welcomed by brands across the globe, there are still some pitching complexities that have to be overcome.
Are you about to conduct a media agency pitch but you simply cannot afford a pitch consultant due to professional or financial limitations?
The Abintus Academy pitching process course can provide invaluable insight and actionable steps to deliver great results. The step-by-step instructions will save you time, provide in-depth instruction in the form of video lessons and acquaint you with the most important aspects of the pitching process.
Please follow this link to learn more about the course curriculum. You can also get in touch with us to have your questions answered.